The Enthusiastic Abundance of Getty Gardens
The extraordinary Getty Center, showcasing European artwork collected by the late American oil magnate J. Paul Getty, sits in a spectacular setting—high on a bluff overlooking the city of Los Angeles. Visitors park below, then take a tram up the hillside, enjoying the view as they make the ascent.

At the main level, right angles reign. The modernist buildings of the museum and the research center are built from chiseled blocks of travertine. Trees in the surrounding landscape are planted to align in precise straight lines and carefully pruned to be nearly identical in form. But below, filling a ravine between buildings, the magnificent Central Garden escapes those bounds.

The 134,000-square-foot garden, designed by renowned painter Robert Irwin, is full of curves and exuberant plantings. Irwin had never designed a garden when he took on the project. He armed himself with $1,500 worth of landscaping magazines and began assembling collages of images he liked. Next he traveled the entire length of the US West Coast buying plants that pleased him.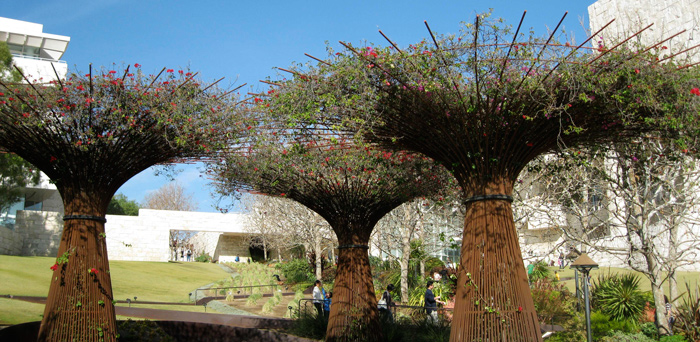 The result is a living work of art, a painterly arrangement of shapes, textures, and colors. Towering sculptures serve as trellises for bougainvillea. Corten steel edging frames lushly planted beds in a pleasant marriage of hard and soft. Lawns invite kids to roll down the slope. And, there are plenty of spots to simply sit and gaze.

The spiraling walkway repeatedly crosses a central stream that tumbles over boulders at the start, quiets to a gentle flow, then culminates in a waterfall that rushes into a pool holding a floating azalea maze.

No plants are labeled here. This is a garden that is meant to be experienced, not cataloged. Carved into the plaza floor is Irwin's vision for the garden: "Always changing, never twice the same."


Photo credits: Bonnie Monte